Terry McKinney's Retirement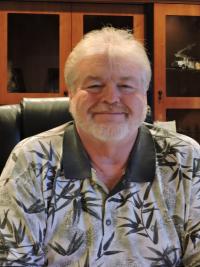 Benton Utilities General Manager Terry McKinney will step down after more than eleven years of service to the utility, Benton Public Utilities Commissioner Chairman Charles Best announced today.  He retires as the first general manager to lead Benton Utilities after the Commission was formed in 2004.  Mr. McKinney joined our team as General Manager in October of 2005.  His official retirement date is December 16, 2016. 
 "The citizens of Benton have benefited greatly from the eleven years of service Terry McKinney has given to the Utility," Best said.  "In his years at Benton Utilities, General Manager McKinney used organizational efficiency in order to keep the cost of services low for our customers.  He has done an outstanding job leading our organization with many capital improvements, upgrade projects, infrastructure repairs as well as negotiating contracts for both energy and wholesale water sales.  While the Benton Utilities team is losing a dedicated leader, the Utility will continue to benefit from what he has accomplished during his time here.  We wish him much success and happiness with his post Benton Utilities plans."
"I really have had a wonderful opportunity in the twilight of my career to lead Benton Utilities for a little over a decade," McKinney said.  "If I've done my job right, my leaving shouldn't have a major impact on the company."
A retirement celebration & roast will be held on Thursday, November 3, 2016 at the Benton Events Center.  The meet and greet will start at 5:00 p.m. with a Roast and Toast to commence at 6:30 honoring the retiree.  After the program, the reception will continue until approx. 8:00 p.m.  This event is open to the public, and we encourage anyone that was impacted by Terry's service here to attend.  Come help celebrate the memories and see him squirm as we relive some of the livelier moments experienced during his time here.  Help ring in the bittersweet end of over a decade of service for Benton Utilities and toast to the exciting new beginnings (or boredom) he is going to enjoy.   
Benton Utilities has been blessed by having Mr. McKinney as a part of their team, he epitomizes the dedication to the job we strive to maintain in our organization.  As he enters this new era of his life, we hope he enjoys spending time with his wife, Patty, golfing or travelling the United States in his motor home.  
Sign Up
Email & Text Alerts